Holiday Village and Campsite with Sports Activities in Alghero
Experience sport on vacation and enjoy our proposals dedicated to Yoga, Stand Up Paddling - Kayaking and cycling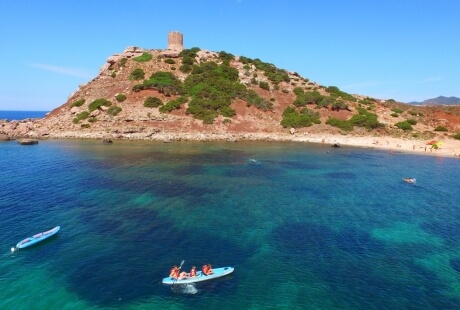 Kayak and Stand Up Paddle rental
Are you ready to paddle in the clear waters of Sardinia, reaching the most beautiful bays of the Riviera del Corallo?
At our Kiosk Bar, it is possible to rent two-seater kayaks, to explore the magnificent bay of Torre del Porticciolo and all the nearby coves.
Equipped with sunscreen, hat and sunglasses, you can paddle the beautiful beaches of Cala Viola, or, on your right, Serraona, up to Porto Ferro. You can cool off by swimming in the clear waters of the Capo Caccia Isola Piana Marine Reserve, admiring the magnificent seabed, in complete relaxation and away from the chaos of the beaches.
How many times have you seen someone standing on the S.U.P. (Stand Up Paddle) in the middle of the sea and you wanted to try it? From this summer, you can do it, renting your S.U.P. directly on the beach. The S.U.P. is practiced standing balanced on the board in the water and moving around using a paddle; it is easy to use and is aimed at men and women, young and old, families, fitness enthusiasts, thrill seekers, yoga practitioners or anyone curious enough to try it. The SUP offers an innovative perspective on the water and is perfect for exploring the coast or for discovering hidden and secluded bays.
It is possible to rent kayaks and S.U.P. individually, directly at our Reception or by our Kiosk Bar, where, once your activity is over, you can sip pleasant drinks in a dream location.
Starting this year, we offer our customers kayak excursions in the Capo Caccia Isola Piana Marine Reserve, with direct departure from our private beach. A kayak tour is the best way to get to know the most authentic part of the island and its breathtaking nature.
In the first 10 minutes you will become familiar with the paddle, than Giovanni will lead you to discover multicolored cliffs and uncrowded places.
KAYAK EXCURSION – TORRE DEL PORTICCIOLO AND NEARBY BAYS




Guided Tour - Easy - Beginners and Families




Every Friday from July to August. Max 6 people


Meeting point: Kiosk Bar Torre del Porticciolo
Duration: Half day
Total distance: --
Departure: Porticciolo beach at about 9.30
Return: Porticciolo beach at about 1.30 pm
Price: 70 € per person
Prices include vtr kayak, paddle, life jacket, waterproof bag for storing personal items, expert guide, insurance. Upon your return to the bay you will be offered 1 refreshing and relaxing drink. We recommend you to bring water, slippers, sunscreen, hat, sunglasses, mask and/or goggles for snorkeling.
The "Torre del Porticciolo and nearby Bays" Guided Tour should be reserved online or at our Reception
For those who book kayak excursions, S.U.P., electric bike at the same time, there is a 5% discount on the total package.
To find out about our complete program of sports excursions (kayaks and electric bikes), you can contact our Reception or just get to know Giovanni, our expert guide who will be at your disposal every Monday morning in July and August to explain the beauties of the place, showing you all our activities by sea and by land, and then accompanying you on a soft morning trekking, completely free, along the paths that wind around our structure.
Soft Trekking compulsory registration (max 15 people). Free activity> at our reception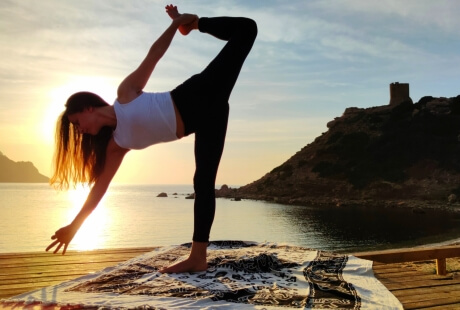 Yoga for everyone
Do you need a life-living holiday? Stop ... breathe ... leave all fears behind ... all the built-up stress in this difficult period ... regain your balance.... we will take care of you in the enchanting beauty of the Porto Natural Park Conte, giving yourself time for your inner care!
In the months of July and August, Torre del Porticciolo offers its customers two weekly Yoga lessons free.
The courses will be held every Tuesday and Saturday (about 7:00 pm), by our teacher Fabiola and registration is mandatory, as the number of places available is limited.
Find true well-being and treat yourself to a practice facing the sea ... a sun-kissed awakening at Torre del Porticciolo simply cannot be beat!!!
"Learn to be grateful and the universe will give you a reason to be so"
Compulsory registration Yoga lesson 1 h (max 15 people) at our Reception> Free activity.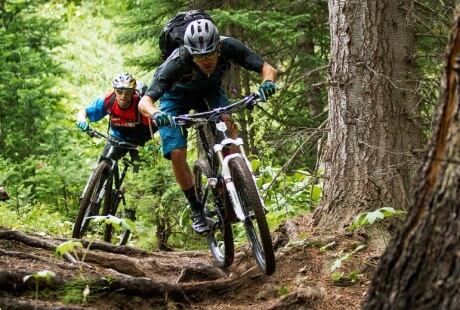 Hire Electric Bicycles
Sardinia is not only sea, but also a hinterland to discover, with its thousand surprises. What's better than a ride in the paths of the Porto Conte Natural Park?
Our brand new E-Bikes with electrically assisted pedaling (Haibike Sduro FullSeven 5 - 2021), can be hire by both experienced cyclists and less trained people, who nevertheless wish to venture into the dirt paths that cost our campsite. By cycling you can admire breathtaking views that wind from Torre del Porticciolo to Alghero, using a completely electric vehicle and therefore with zero impact on nature.
Individual rental prices
1 day € 60.00
3 days € 170.00
5 days € 280.00
Week 390.00 €
Helmet and lock included in the rental price.
It is possible to book the service at our Reception.
Starting from July it will be possible to rent your electrically assisted E-Bike directly at the campsite, and take part in our guided excursion from Porticciolo to Lake Baratz.
With this tour we will take you to discover the hidden paths that lead up to Baratz, the only natural lake on the island, surrounded by lush vegetation and bordered towards the sea by impressive sand dunes, which separate it from the beautiful Porto Ferro beach.
Guided Tour - Easy. Max 6 people
Every Wednesday from July to August
Meeting point: Bar
Duration: Half day
Departure: around 9.30
Return: around 13.30
Price: 70 € per person
Prices including e-bike, helmet, insurance, 1 bottle of water. Expert guide.Sportswear and tennis shoes are recommended.
The bike excursion from Porticciolo to Lake Baratz must be reserved online or at our Reception. For those who book kayak excursions, S.U.P., electric bike at the same time, there is a 5% discount on the total package.