Protect your booking with our Insurances and leave peacefully! 
Thanks to Booking Protection by Allianz Global Assistance you can protect your stay in case of Cancellation and more.
It's quick and simple and requires just a few clicks.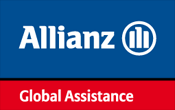 Choose Allianz Global Assistance Booking Protection travel insurance ! 
If you wish to spend a "zero risk maximum safety vacation", we would advise you to buy the Allianz "Booking Protection" insurance policy which protects your Vacation in case of cancellation of your reservation, interruption of stay, or late arrival at our facility. It's quick and simple and requires just a few clicks. May be activated within 24 hours after confirmation of your reservation. 
Once you have completed your booking, you will find in your confirmation email the link to buy this optional service online. 
Booking Protection
This Insurance was created for the reimbursement of expenses incurred in the event that the guest has to give up the planned vacation, to delay its start or to terminate it early due to serious illness, injury to the guest or a family member, difficulty in reaching the village-camping.
Booking Protection Plus
It is a policy that includes basic Booking Protection plus telephone medical assistance for information and / or medical advice, free sending of a doctor, transport to equipped facilities and medical return to the insured's residence.
If you want to know the cost and conditions of sale, click here