Holiday Village and Campsite in Sardinia for Families
Torre del Porticciolo offers an extensive array of special services for families travelling with children. Spend some quality time with your nearest and dearest.
The new "Kids Package" has been designed for all those who like to travel light.
Are you looking for a holiday resort for families in Sardinia?
Torre del Porticciolo is the ideal choice for a holiday in the wonderful Porto Conte Nature Reserve together with your family.
Nature will provide the backdrop to your holiday in one of our accommodation units with direct access to the sea, available for both small family groups and more numerous families. You can choose from Bungalows, Chalets (sleeping from 2 to 6 guests), Mobile Homes with up to 3 bedrooms and 2 bathrooms, or Lodge Tents sleeping up to 5 guests.
Alongside the comforts of our accommodation units, you can also use the half-board or full-board service, freeing you up to make the most of your holiday with your nearest and dearest. Alternatively, you can opt for the accommodation-only package and decide each day whether to cook your own meals, savour the authentic cuisine at our Restaurant/Pizzeria, or visit one of the many restaurants in the enchanting city of Alghero, just a few kilometres from our resort.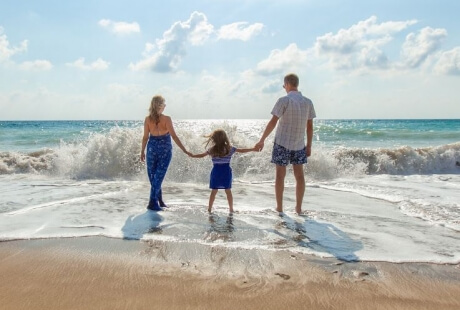 The entertainment at the Villaggio Torre del Porticciolo is sure to keep guests of all ages very happy. From 1 July to 10 September, the mini-club service offers a varied programme of entertainment, with numerous engaging activities for children aged 3 years and up. For adults, we offer fitness courses at the swimming pool and musical entertainment in the evening, with an ever-changing array of options, including folk groups, cookery courses and much more besides.

The two swimming pools at the resort, one for adults and the other for children, will provide safe, relaxing fun whenever you don't feel like going to the seaside. The Torre del Porticciolo beach – a true pearl of the Porto Conte Nature Reserve – is just a stone's throw from the village, and is renowned for its richly populated sea bed and breathtaking sunsets. Our private beach features sun loungers and parasols (charges apply) and also offers a kiosk-bar, huts, canoes, and hot and cold showers.

The bay also includes a free section, where you can place your own beach towels and parasols, should you prefer not to use our beach facilities.

Our younger guests are welcome in all of the areas of our village, and you can leave them to play safely thanks to the limitations on the use of vehicles within the site. The mini-club service will see them getting involved in fun workshops, magic shows and lots of other activities.

Here at the Torre del Porticciolo holiday village, we have even come up with a service designed specifically for those travelling with children: the new Kids Package allows you to travel light, safe in the knowledge that we offer everything you may need for your family break. Here's what's included:
Plates and bowls for children
Comfortable cot for children aged 0-2
A soft, colourful changing table
A practical bottle warmer
One pushchair available per accommodation unit
One high chair available per accommodation unit
A bucket and spade set
Write to us if you require any further information!

If you want to travel to Sardinia by sea, you can take advantage of our offers, which include Sail + Stay options. Alternatively, you can request a custom quote.

What are you waiting for? Book one of our offers straight away and start dreaming of your upcoming family holiday in Sardinia!