Meditation and Self-Awareness Course
The Meditation and Self-Awareness course is held by Master Piergiorgio Caselli during the last week of July (from 27 July to 3 Aug ) and it is divided into several day-time and evening meetings set in the enchanting scenario of the Porto Conte Natural Park..… are you ready to light your inner fire?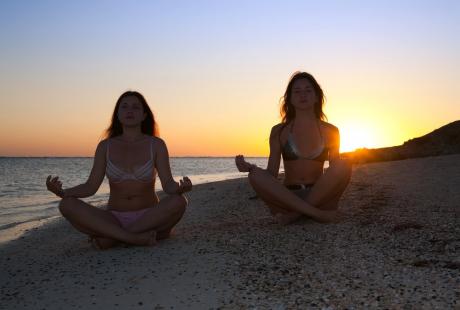 Take a wild week in Sardinia to learn and practice the technique MPA (deep meditation and Self-knowledge). A location accessible to all, and at the same time, deep, detailed, gradual, effective.

The Course blends silent meditation with that of a more dynamic nature, ranging from working on vivid dreams and one's own inner blocks to the Sufi and Gurdijeff techniques and to regression associated with to childhood and past lives. For further information on the course, please visit the website   http://www.scuolanonscuola.org/medsar.html 
The Torre del Porticciolo Camping-Village offers Course participants accommodationin the village as well as in tents overshaded by a thick pine forest, in an area that is loaded with both energy and silence, the ideal location for meditation and inner searching. 
Services included in the price: guest reception service with reception open 24 hours a day, external surveillance service, bedclothes and bathroom linen changed weekly (to be collected on Saturday in the Head office), the final cleaning (n.b. the kitchen area must be left clean by the client, otherwise a fine of € 40.00 shall be charged). Hot and cold water, electricity and gas bottles consumption, a car/motorbike parking space is free (further car/motorbike parking spaces must be paid for, as regards such, please consult the camping village price list). Swimming pool service including sun loungers, children's play area, day-time and evening entertainment, children's club (from 3 years old), the use of the tennis court and the ping pong table. Allowed to charge small dogs (except in mobile homes and cottages). Nb: For customers with domestic pets, cleaning costs 70.00 €.
CAMPING: all participants of the course of meditation will benefit from a discount of 5% on 2012 official rates. For the benefit of the offer is not required to send the deposit.
The above rates are reserved exclusively to those who participate in the course of meditation and Self-knowledge, and do not include the cost of the course that must be paid the day of arrival at the direction of the village Camping.
For more details, contact the booking office at the following telephone number: (+39) 079 919 007 (+39) 079 919 010 or email info@torredelporticciolo.it